NEWS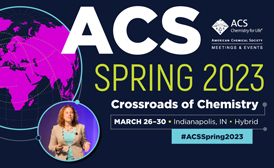 ISS Returns to American Chemical Society 2023!
Champaign, Illinois - March 23, 2023 - We look forward to seeing you at the American Chemical Society annual meeting in Indianapolis, Indiana at booth #633. ISS develops innovative product solutions for powerful outcomes. Including steady-state and time resolved spectrofluorometers, single molecule sensitive time resolved laser scanning microscopes and FLIM/FCS upgrade kits.
Instruments include:
Chronos: Steady-state and time resolved fluorimeter
Alba v5 and Q2: Single molecule sensitivity time resolved LSM
ISS also carries a variety of modular components that complements the instrumentation: Data acquisition cards (FastFLIM), laser diodes, LEDs, high pressure cell, scanning mirror module, and fiber optic sensors amongst an extensive line of accessories to upgrade your existing LSM setup. Applications include FRET, FLIM, FCS, FCCS, PCH, STED.
ACS meetings & expositions are where chemistry professionals meet to share ideas and advance scientific and technical knowledge. By attracting thousands of chemical professionals, the meetings provide excellent opportunities for sharing your passion for chemistry, connecting with one of the world's largest scientific societies, and advancing your career in this ever-changing global economy.