Overview of Cuvettes
The cuvette is placed into a holder, which is positioned into the HP Cell. A Teflon stopper on the cuvette separates the internal solution from the pressurizing liquid; the stopper acts as a piston and allows for the transmission of pressure to the solution contained in the cuvette.
Compatible with
High-Pressure Cell System
.
Product Specifications for Cuvettes
Square Cuvette
Schematic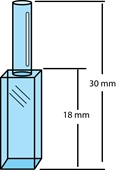 | Part No. | Width (mm) | Volume (ml) |
| --- | --- | --- |
| 65409 | 6 | 0.30 |
Cylindrical Cuvette
 
| Part No. | Diameter (mm) | Volume (ml) |
| --- | --- | --- |
| 65408 | 11 | 0.75 |