Overview of ChronosBH
ChronosBH is a time-domain (TCSCP) compact spectrometer for decay time measurements over a wide time scale, from picosecond to seconds. The instrument design features a T-format geometry for simultaneous acquisition on two emission channels. A variety of pulsed light sources can be coupled to ChronosBH including laser diodes, supercontinuum laser and multiphoton lasers. Detectors options include fast PMTs, hybrid PMTs and GaAs PMT. The instrument can be upgraded to steady-state fluorescence measurements using a xenon arc lamp.
The ChronosBH operations are fully automated; instrument control, data acquisition and processing are done through Vinci, the Multi-dimentional Spectroscopy software.
Key Features of ChronosBH
Time-Domain Measurements
Maximum Sensitivity
Fully Automated
Integration of External Devices
Upgradeable
Flexible instrument configuration with a variety of light sources
A compact footprint, T-format geometry for simultaneous measurements on two channels
Lifetime measurements from the picosecond to the second
Full automation of instrument components including: cuvette holder, polarizers, shutters, filterwheel, monochromators and stirrers
PC-controlled integration of temperature bath, titrator, stopped-flow apparatus and pressure pump
Upgradable to include steady-state measurements
Parallel beam optical design for fast and precise polarization measurements
Key Characteristics of Data Acquisition Via Time-Domain
Is a more direct way of measuring lifetime
Requires no reference but measurement of an instrument response function (IRF)
Anisotropy decay measurements require two separate measurements at each plane of polarization
Product Specifications for ChronosBH
Light Source
Laser diodes (nm): 370, 405, 436, 473, 635, 690, 780, 830
LEDs (nm): 280, 300, 335, 345, 460, 500, 520
Pulsed Lasers: Supercontinuum, Ti:Sapphire, Pulsed Laser Diodes
Focusing & Collection Geometry
Parallel beam design for precise polarization measurements
Polarizers
UV grade Glan-Thompson with L/A = 2.0
Detection Modes
Fast analog and photon-counting electronics
Wavelength Range
185 - 1,700 (detector dependent)
TCSPC Modules
Minimum time bin width (ps): 1
Time resolution, RMS jitter (ps): 34
Total Counts rate: up to 8.5 MHz
Lifetime Measurements Range
Power Requirements
110 - 240 V, 50/60 Hz, 400 VAC
Dimensions
540 mm (L) x 425 mm (W) x 235 mm (H)
Download Data Sheet
Example Configuration for ChronosBH
Product Accessories for ChronosBH
Product Software for ChronosBH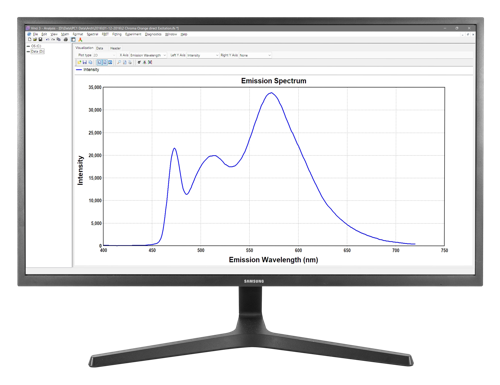 Vinci
A comprehensive multidimensional fluorescence spectroscopy software program designed to enhance the capabilities and performance of ISS spectrofluorometers.
Learn More