Overview of ChronosDFD
ChronosDFD for lifetime measurements in complex decays in less than 1 second is fully-automated through Vinci, a user-friendly, Windows-based software package.
Key Features of ChronosDFD
Frequency Domain Measurements
Maximum Sensitivity
Fully Automated
Integration of External Devices
Upgradeable
Flexible instrument configuration with a variety of light sources (laser diodes, LEDs and Ti:Sapphire laser)
A compact footprint and short optical path length for maximum sensitivity and efficient light coupling into the sample
Second to picosecond lifetime measurement capabilities
Full automation of instrument components including: cuvette holder, polarizers, shutters, filterwheel, monochromators and stirrers
PC-controlled integration of temperature path, titrator, stopped-flow apparatus and pressure pump
Upgradable to a full steady-state instrument
T-format and parallel beam optical design for fast and precise polarization measurements
Powered by Vinci-Multidimensional Fluorescence Spectroscopy
Key Characteristics of Data Acquisition via Frequency-domain with ChronosDFD
Fluorescence lifetime is calculated from two measureable parameters: phase angle and modulation
Is a faster and less artifact-prone
Allows one step measurements of anisotropy decays (rotational correlation times)
Is better at resolving short lifetime contributions
Is the method of choice for lifetime-based sensing and real-time measurements because of high sampling rates in the millisecond time scale
The Data is Clear!
Fluorescein in Propylene Glycol
Frequency-domain anisotropy decays (differential polarized phase angle and amplitude ratio) of fluorescein in propylene glycol measured on ChronosDFD using an excitation wavelength of 470 nm (Xenon arc lamp). The emission was collected using a 530 longpass filter. Calculated values for θ = 5.3 ns with R0 = 0.40 and τ = 4 ns, T = 27-28°C.
BodipyFL in Water
Frequency responses (phase and modulation) of BodipyFL in water acquired on ChronosDFD using a 471 nm laser diode. The emission was collected through a 520 longpass filter. The data is best fitted with a single exponential decay time of 5.87 ns (χ2 = 0.97).
Product Specifications for ChronosDFD
Light Source
Laser diodes (nm): 370, 405, 436, 473, 635, 690, 780, 830
LEDs (nm): 280, 300, 335, 345, 460, 500, 520
Pulsed Lasers: Supercontinuum, Ti:Sapphire, Pulsed Laser Diodes
Focusing & Collection Geometry
Parallel beam design for precise polarization measurements
Polarizers
UV grade Glan-Thompson with L/A=2.0
Detection Modes
Photon counting electronics
Wavelength Range
200 nm to 1700 nm (detector dependent)
Max Counts Range
Up to 80 million counts/s (using hybrid detectors)
Lifetime Measurements Range
Power Requirements
Universal power input: 110 - 240 V, 50/60 Hz, 400 VAC
Dimensions (mm)
540 (L) x 425 (W) x 235 (H)
Download Data Sheet
Example Configuration for ChronosDFD
Product Accessories for ChronosDFD
Product Software for ChronosDFD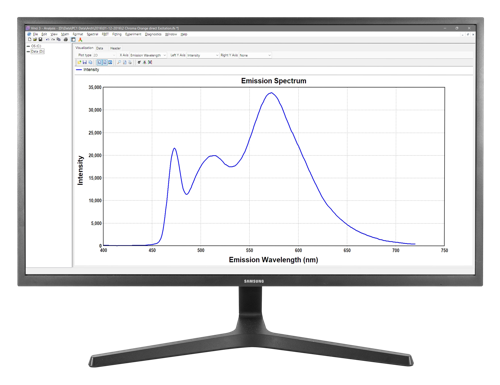 Vinci
A comprehensive multidimensional fluorescence spectroscopy software program designed to enhance the capabilities and performance of ISS spectrofluorometers.
Learn More